CELLO-FEST with DAVID GERINGAS AND DALI GUTSERIEVA . CASTELL DE BELLVER. 6 & 7 JULY 2015. 20:30h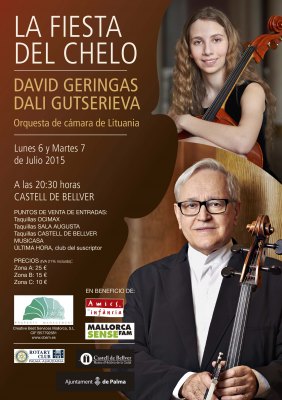 CELLO-FEST. CASTELL DE BELLVER. 6&7 JULY 2015. 20:30H.
Creative Best Services Mallorca is organizing in collaboration with Rotary Club Palma Almudaina, Ajuntament de Palma and Castell de Bellver a Benefic Concert for Amics de la Infància and Mallorca Sense Fam. The main sponsor of this concert is Zavarté Classic. 
Lithuanian Chamber Orchestra from Lituania and the incredible David Geringas will be playing during two afternoons in Castell de Bellver on the 6th and 7th of July at 20:30h.
The programs for both days are differents. See below
Selling points:
Cines Augusta ( Plaza España)
Cines Ocimax
Musicasa La Rambla
Musicasa Conservatorio
Club del suscriptor Última Hora ( Paseo Mallorca, 30)
CBSM ( reservation by phone 629046699)
Castell de Bellver ( At the same day of the concert)
We are looking for hearing this concert!
6th Julio 2015 20:30 Castell de Bellver
Lithuanian Chamber Orchestra
Conductor David Geringas
Soloists : Dali Gutserieva Cello ( only July 6th)
David Geringas Cello
Vytautas Laurushas: Sinfonietta para cuerdas / Sinfonietta for Strings (2014)
Henry Eccles: Sonata in Sol-menor para chelo y cuerda / Sonata in G-minor for Cello and Strings 
Grave, Courante, Adagio, Vivace  Soloist Dali Gutserieva Violoncello
Pyotr Tchaikovsky: Tres piezas para violonchelo y cuerda / Three Pieces for Violoncello and Strings 
Nocturne op 19 No 4,
Melody op 42 No 3, Humoresque op 10 No 2
Solista/Solo David Geringas Violoncello
Dmitri Shostakovich: Sinfonía de cámara Shostakovich
op 110 bis / Chamber Symphony op 110 bis 
7th Julio 2015 20:30 Castell de Bellver
Lithuanian Chamber Orchestra
Conductor David Geringas Soloist: David Geringas Cello
Joseph Haydn: Sinfonía No 49 en Fa menor,
Hob. 1:49 "La Passione" / Symphony No 49 f minor Hob. 1:49 "La Passione"
Adagio, Allegretto di molto, Menuetto.Trio, Finale. Presto
Franz Schubert: Sonata para chelo y cuerdas "Arpeggione" La-menor D821 / Sonata for cello and strings " Arpeggione" a minor D821
Allegro moderato, Adagio, Allegretto Solista Solo David Geringas (Violoncello)
Wolfgang Amadeus Mozart: Sinfonía No29 La mayor K201/186a Symphony No 29 A major KV 201/186a
Allegro moderato, Andante, Menuetto (Allegretto) – Trio,
Allegro con